Foundation News Posts
Stay up to date with the Foundations most recent news and updates
Reno for Pohlen
Hammering home a major 'Reno for Pohlen'
With a Pohlen Hospital extension currently in the planning that will provide a further 13 beds, a need to expand the space occupied by Matamata Medical Centre and a strong focus on a long and successful future for our largest community owned asset, exciting developments are underway that will significantly help with funding the improvements!
Absolutely passionate about Pohlen Hospital and its future, Gilly Alexander, the Fundraising Manager of Pohlen Foundation, and her husband Ross have provided an opportunity that has created a buzz amongst local tradies, businesses and the community.
Having recently sold their farm, the Alexander's purchased a property with the intention of helping their daughter. As it happened however, circumstances changed quickly and the house was no longer required. The couple could have sold it on the open market and been subject to Brightline test legislation – or, with any short term capital gains going to a charitable trust, be in a position to keep proceeds within the community they love. As far as Gilly and Ross were concerned, it was a no brainer!
"After discussion with Pohlen Foundation board members, we agreed on a fair and reasonable value of the house in it's current state" says Ross, "and that is the price they will buy it at." The twist however, is that by getting the community on board and completely refurbishing everything – literally including the kitchen sink, the Foundation stands to make considerable profit from the sale which has been scheduled towards the end of this year.
At an open meeting held by Pohlen Foundation Trust, expressions of interest were invited to completely make over the two storied, four bedroom home from the ground up where all upgrades, fittings and fixtures including bathrooms, kitchen, flooring, landscaping, painting and decorating will be offered 'in kind'.
"We, the Pohlen Foundation, have already been absolutely overwhelmed with the generosity and kindness from all sectors" says Gilly. "The fact that various companies and tradespeople have collectively agreed to work alongside each other for the good of the cause truly shows what fantastic community spirit there is when it comes to the future and welfare of Pohlen Hospital."
Although regular updates and progress reports will follow, anyone interested in becoming involved is welcome to email [email protected]. Whether it's "purchasing" a square metre of flooring or contributing to removal of a shed for example, all enquires or donations will be hugely appreciated. It's a 'Reno for Pohlen' and the entire community is invited to share the journey to completion! n
Quiz Night a Success
Big
thanks to all the quizzers you came along on Thursday 8th July to Redoubt Bar & Eatery Matamata to support our event.
It was a huge success with $4,200 raised for Pohlen Hospital. Congratulations to The The for winning closely followed by Board-Um Busters and The Silkies.
As always our community made the night a success with amazing donations Comag Ltd
Star Food Cafe & Restaurant
Matamata Veterinary Services –
Matamata Caci Challenge Matamata
Te Waihou Riverside Retreat
Mead Auto Trimmers & Upholstery…
Big thanks The Redoubt Bar & Eatery Matamata for hosting us and providing such awesome nibbles! And massive thanks to
Kyra and Ross Alexander for all the help
This year sees the return of the Ladies Lunch with a few changes. The Date is Saturday 4th September at Pepper Street Kitchen Cafe - this is a change to the normal Friday but something that we hope will allow for plenty of our ladies in the community to be a part of....
read more
This year sees the return of the Ladies Lunch with a few changes. The Date is Saturday 4th September at Pepper Street Kitchen Cafe - this is a change to the normal Friday but something that we hope will allow for plenty of our ladies in the community to be a part of....
The Senior Citizen's paying it forward for aged care - Recently the Matamata Senior Citizen's Club made the decision to wind up the organisation that has been an integral part of the Matamata community since 1965.   Over the years a myriad of activities...
As local as you are, Challenge Matamata strives to provide service, support and excellence to the community wherever possible and, with a recently introduced initiative, has taken this one step further. The My Challenge Programme is a community-based...
The Pohlen Golf Tournament took place on Friday 5th April 2019Matamata Golf Club - Ambrose, team of four (golfers and non-golfers welcome)It was a massive success with over $17,000 being raised for Pohlen.Thank you to Matamata Golf Club for the great day - weather...
Another successful day at the races was held on Saturday 13th October with over $12,000 raised for the Foundation.
Annual Ladies Luncheon - This event has now passed With Special Guest, Annah Stretton, all proceeds from this event and raffles will support Pohlen Hospital. A gorgeous environment, sumptuous lunch and the company of dozens of local woman saw another...
-Article was written by Caron Stewart The old "I liked it so much I bought the business" would be an apt way to describe Nicholson's Auto's, the family owned and operated motor vehicle franchise originally started in the 1930s by the Paine family in Morrinsville....
Our Recent 2017 Golf Tournament With perfect weather, impeccable course conditions and a wonderful atmosphere, Pohlen Foundation Trust Lindsay Tisch could not have been happier with the success of the recent charity golf day. His particular thanks went to...
Having recently sold their Matamata home, Lady Margaret Spring and her husband Sir Dryden have made the decision to head for the Bay and enjoy their next chapter in life under the sun. With just a week left before the tears start flowing and the truck pulls away, it...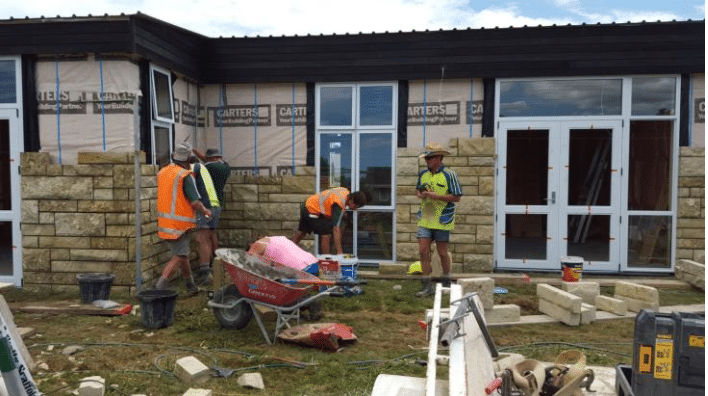 We are only weeks away from the completion of our new wing and I thought it an ideal time to clarify and emphasise the working relationship we have and will continue to have with Hospice Waikato. Although the new wing at Pohlen Hospital has been specifically designed...